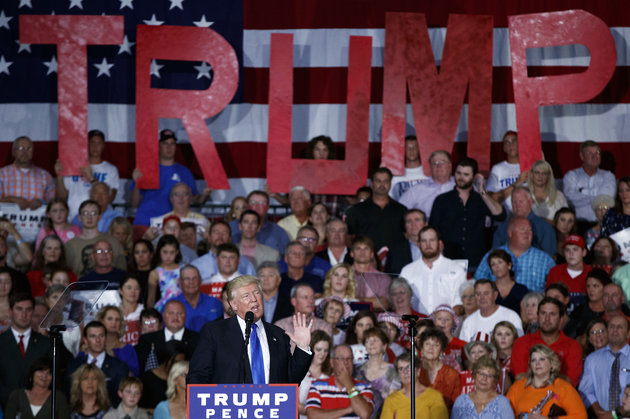 Evan Vucci/ASSOCIATED PRESS
A super PAC for Democratic nominee Hillary Clinton is targeting GOP nominee Donald Trump's #TrumpTrain hashtag.
On the eve of the first debate, the pro-Hillary Clinton super PAC Priorities USA is launching a new, six-figure digital ad campaign that attempts to co-opt Donald Trump's signature online hashtag.
The spots, which will run on Facebook, Twitter, Instagram and as online ad content, attack the Republican presidential nominee on a variety of fronts, ranging from economic (the minimum wage) to social (abortion policy, marriage equality and sexism).
The hook, though, is the backdrop: an oncoming locomotive bearing down on the viewer.
The image is meant to play off the #TrumpTrain hashtag that Trump's supporters often use to populate their posts and allude to their candidate's gains in the polls.
"That's a dangerous ride that must be stopped, so we encourage everyone to #StopTheTrumpTrain and vote for Hillary Clinton," read Priorities USA's statement announcing the ads.
The ads will be running in Pennsylvania, North Carolina, Florida and Ohio, a Priorities USA spokesman said. And though they're scheduled to run in the lead-up to Monday night's debate, the group is not ruling out the possibility of keeping them online afterward as well.