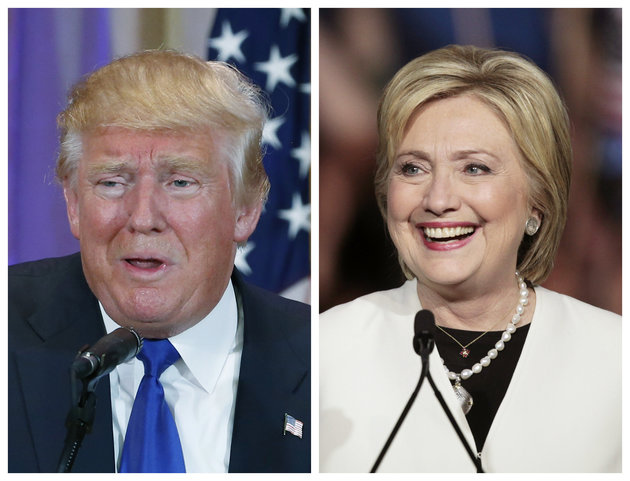 Jim Tanner / Reuters
Republican U.S. presidential candidate Donald Trump (L) in Palm Beach, Florida and Democratic U.S. presidential candidate Hillary Clinton (R) in Miami, Florida.
U.S. Democratic presidential candidate Hillary Clinton leads her Republican rival Donald Trump by 5 percentage points among likely voters, down from a peak this month of 12 points, according to the Reuters/Ipsos daily tracking poll released on Friday.
The Aug. 22-25 opinion poll found that 41 percent of likely voters supported Clinton ahead of the Nov. 8 presidential election, while 36 percent supported Trump. Some 23 percent would not pick either candidate and answered "refused," "other" or "wouldn't vote."
Clinton, a former secretary of state, has led real estate developer Trump in the poll since Democrats and Republicans ended their national conventions and formally nominated their presidential candidates in July. Her level of support has varied between 41 and 45 percent during that period, and her lead over Trump in the tracking poll peaked this month at 12 percentage points on Tuesday.
During the past week, Clinton has been dogged by accusations by Trump, which she has denied, that donations to her family's charitable foundation influenced her actions while she was secretary of state from 2009 to 2013. Questions have also surfaced again about her use of a private email server and address rather than a government one during her period at the State Department.
Meanwhile, Trump and Clinton also sparred over who would be a better advocate for African Americans and other minorities, and Trump hinted he could soften his hard-line stance on immigration. [nL1N1B714Z]
In a separate Reuters/Ipsos poll that includes candidates from small, alternative parties, Clinton leads the field by a smaller margin. Some 39 percent of likely voters supported Clinton in the four-way poll, compared with 36 percent for Trump, 7 percent for Libertarian candidate Gary Johnson and 3 percent for Green Party nominee Jill Stein.
Both polls were conducted online in English in all 50 states. They included 1,154 likely voters and have a credibility interval of 3 percentage points.
The results may differ from the Reuters/Ipsos States of the Nation project, which includes a separate weekly tracking poll that measures support for the major party candidates in every state and Washington D.C.
The States of the Nation, released on Wednesday, estimated that if the election were held now Clinton would have a 95 percent chance of winning by a margin of about 108 votes in the Electoral College, the body that decides the election through a count of the candidates' wins in each state.