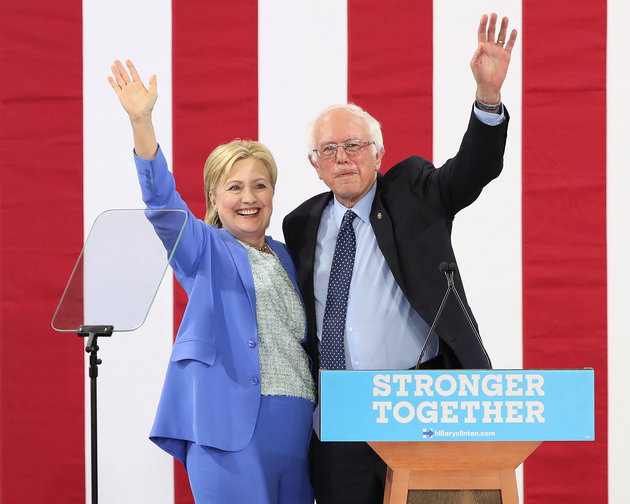 Taylor Hill/Getty Imagess
Progressives wonder whether Hillary Clinton's embrace of independent Vermont Sen. Bernie Sanders' more populist policies will last once she takes office.
WASHINGTON ― Courting Republicans turned off by Donald Trump is an increasingly prominent part of Hillary Clinton's general election strategy.
That has some progressives nervous that Clinton will take them for granted once in office, making their policy priorities disposable as well.
Many other veteran liberal insiders and activists, however, are unfazed by Clinton's electoral strategy and bullish about her presidency. They believe that the candidacy of Sen. Bernie Sanders (I-Vt.) helped solidify a leftward shift in the party's center of gravity that Clinton recognizes.
And while these progressives claim to hold no illusions about Clinton's personal views or ties to special interests, they have more confidence in their ability to exert pressure on Clinton and other party leaders than they had even four years ago.
The argument for progressive skepticism was laid out by former Sanders supporters like economist Robert Reich and ex-NAACP head Benjamin Jealous in a recent New York Times story.
In a race against Trump, Clinton's ideology and agenda matter far less than her non-Trumpness ― or ability to meet a basic threshold of responsibility and sound temperament, according to the skeptics. Clinton, in turn, can make the case for her candidacy based less on progressive policies she would pass than a better-than-him personality argument, weakening her mandate to govern liberally, the Times' interviewees fear.
Other observers ask a separate, but related question: If Clinton is courting Mitt Romney voters, neoconservative thought leaders and Bernie Sanders supporters alike, whose core interests will she fight for once in office? She cannot please all of them at once, and with progressives lacking an alternative in the two-party system, she is more likely to view their priorities as expendable, the theory goes.
Progressive optimists respond by noting that Clinton has not actually compromised her domestic policy platform to appeal to these "swing" voters. She still supports expanding Social Security, a public health insurance option, debt-free college and raising the federal minimum wage to at least $12. Most crucially of all, Clinton's opposition to the Trans-Pacific Partnership, the massive trade accord negotiated by President Barack Obama, has only grown stronger over time. She now promises to oppose it before the election, after the election ― a tacit reference to the lame-duck session of Congress ― and as president.
The Democratic nominee is not coy about mentioning these plans on the campaign trail. Clinton put them at the center of her acceptance speech at the Democratic National Convention in July, as well as in a key economic policy address in Michigan last week.
The Democratic Party is not the same party it was eight years ago, let alone 20 years ago when Clinton was in the White House with her husband.
-Richard Yeselson, progressive writer
Progressives observers say Clinton's shift reflects that of Democratic rank-and-file voters embracing populist economic policies. The electorate is younger, more diverse and decidedly more liberal.
And if Clinton had not reconciled herself to that before, then she certainly has after Sanders, a self-described democratic socialist, won over 43 percent of the popular vote in the Democratic presidential primary. The only Democrat to rival Sanders in popularity is Sen. Elizabeth Warren (D-Mass.), an irrepressible foe of Wall Street.
"The Democratic Party is not the same party it was eight years ago, let alone 20 years ago when Clinton was in the White House with her husband," said Richard Yeselson, a contributing editor at Dissent magazine and former strategic researcher for multiple labor unions. "It's better than it was for the left right now. And she saw it, she is no idiot."
But to quote Elizabeth Warren, "personnel is policy." And one of Clinton's first hires, the appointment of former Interior Secretary and Democratic Colorado Sen. Ken Salazar, as her transition chair, has spooked these same progressives. Salazar, now a lobbyist at Wilmer Hale, a powerful Washington law firm, is a staunch advocate of fracking and the Trans-Pacific Partnership ― twin progressive bugaboos ― with big business ties to match.
Progressives now fear Clinton is already repeating some of the Obama administration's worst missteps. While liberals were basking in the historic glow of Obama's presidency, Obama was appointing Department of Justice officials who would fail to indict any senior Wall Street executive for fraud in the wake of the financial crisis. He also allowed a top housing official left over from the Bush administration to hold up much-needed relief for distressed homeowners.
Progressive optimists promise they have learned from their own mistakes during the early years of the Obama administration, when they believe they were too acquiescent to the Democratic president.
"We recognize that that was some of our failure from 2008 and 2009," said Shane Larson, legislative director of the Communications Workers of America, one of the few labor unions to back Sanders during the primary. "A lot of progressives sat back and waited for the manna to fall from heaven, not recognizing that the other side's forces, the corporate side, are always mobilizing and have their tentacles everywhere."
"Clinton does not want to see multiple Antonio Weiss-style fights.
-Aide to progressive House member
Warren was also not yet a senator when Obama took office, depriving her of the platform in the media that she has used so effectively. One can easily imagine Warren, a higher-profile Sanders and allies like Sen. Sherrod Brown (D-Ohio) taking their case to cable TV if a Clinton appointment is not to their liking.
"Clinton does not want to see multiple Antonio Weiss-style fights," a senior aide to a progressive House Democrat said, referring to an Obama nominee for a top Treasury post with a controversial banking record that Warren successfully sank through a public campaign.
As a banker, Weiss had specialized in tax inversion, a technicality through which companies reincorporate overseas to avoid U.S. corporate taxes. (Obama has since named Weiss to a role that did not require Senate confirmation, where he supervises White House policy for the Puerto Rican debt crisis.)
A key test for Clinton will be whether she re-nominates to the Supreme Court Merrick Garland, Obama's centrist nominee who is stuck in limbo due to Republicans' refusal to grant him nomination hearings.
The aide to a progressive house Democrat said Clinton is "even cool on Senate Democrats' push to get her to renominate Garland," indicating she is acutely aware of progressive trepidation about Garland.
The greatest hope of business-friendly Democratic groups may lie in Congress, where the party's gains are likely to be limited enough to circumscribe the power of the Sanders-Warren wing. Even if Democrats retake the Senate, which looks eminently possible today, little of Clinton's agenda will be achievable without control of the House, a prospect that remains all but impossible.
Jim Kessler, senior vice president for policy at Third Way, one such business-friendly Democratic group, told HuffPost in an April interview that divided government will give new attention to the kinds of policies his organization prefers.
"If we want things to get done, we will have to find ways to get progressive policy ideas through but understand we need to get votes from the center and from the right," he said.
Of course, foreign policy is a different story entirely. It is both an area where progressive suspicion of Clinton is greatest thanks to her support for the Iraq War and Libya intervention, and one where progressives have the least leverage. The president is, after all, the commander in chief and requires far less approval from Congress to make pivotal decisions in the international arena.
"There is much less scrutiny on foreign policy appointments," the senior House aide concluded. "The left is not well-organized on that issue, Bernie didn't talk about it, there aren't big left-flank pressure groups on foreign policy the way there are for domestic matters."