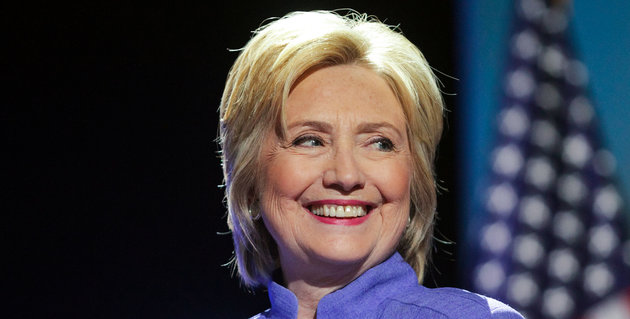 William Philpott / Reuters
Hillary Clinton offered rare words of praise for Ted Cruz on Friday.
Hillary Clinton on Friday said Sen. Ted Cruz (R-Texas) was "right" to refuse to endorse Donald Trump at the Republican National Convention.
Cruz, who ran against Trump in the GOP primary, was booed off the convention stage Wednesday night after declining to endorse his party's nominee. He instead urged Republicans to "vote your conscience," a refrain used by the anti-Trump faction of the party.
During a rally in Tampa, the presumptive Democratic presidential nominee praised Cruz for his remarks.
"Something has gone terribly wrong when one speaker says, 'vote your conscience' and gets booed," Clinton said. "I mean, I never thought I would say these words, but Ted Cruz was right. In this election, do the right thing, vote your conscience, vote for your future, vote for a United States of America."
Hillary Clinton responds to Ted Cruz getting booed at the RNC for telling people to 'vote your conscience' https://t.co/Qh5oh9ec76
— NBC News (@NBCNews) July 22, 2016
She also tore into Trump for claiming he "alone" can fix the nation's problems, calling his vision "dark and divisive."
"Now, just think about that for a minute," Clinton said. "Because it's really important. His vision of America is one where we Americans are kind of helpless, we need to be rescued. I can't really imagine him on a white horse, but that seems to be what he's telling us."
She continued, "I've never heard of an American leader, or at least somebody who wants to be an American leader, claiming that he's all we need. That's not a democracy, my friends. As I recall, we had a revolution to make sure we didn't have someone who said, 'I can fix it alone.'"